Cruisers
Take a look at the chart for the area north of the old Severn Bridge and you could be forgiven for thinking that it is not an attractive area for cruisers to sail. The sandbanks at low tide seem to take up most of the available sailing area, but in reality there is a wonderful cruising and racing ground for a couple of hours either side of high water when the huge tide (up to 40 feet on springs) covers the sand and mud.
Moorings

We are fortunate at TSC in having mud moorings for a variety of different cruisers in Oldbury Pill, an inlet which used to reach nearly a mile inland, but now stops after a few hundred yards at a flood gate. After five years of active membership it is possible to apply for a mooring, and there are currently around forty cruisers at the club ranging in size from about 20 to 30 feet in length.
Cruising area
Most of these cruise the waters north to Lydney Harbour on the west side of the river, and Sharpness on the east, from where it is possible to travel to Gloucester and beyond on the inland waterways. At high water you can ride the tide down under the two Severn Bridges to Bristol, Portishead, Cardiff, Barry, and then on westwards to Ilfracombe, Lundy, Swansea, Milford Haven and beyond.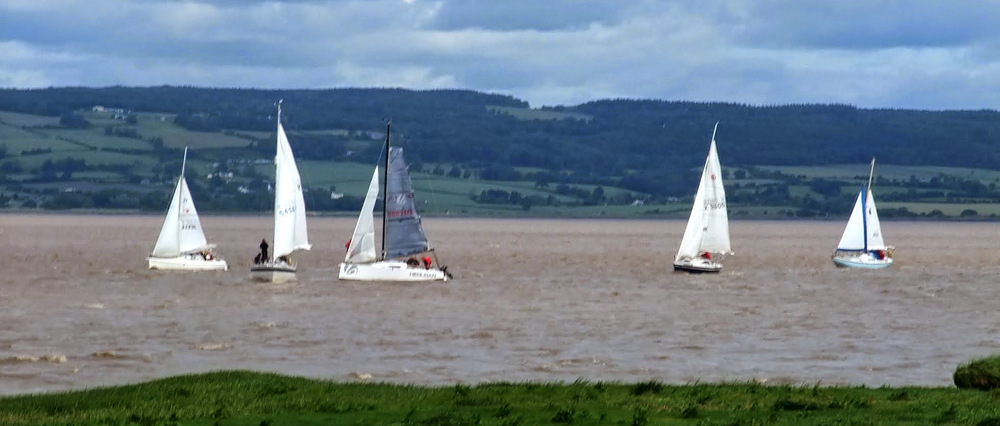 Racing

Cruiser racing at the club is mainly focused on the Frostbite Series, which runs from January to April. Cruiser owners raise racing crews from the dinghy and catamaran fleets in their 'closed' season, and in good years fifteen or sixteen boats with over fifty crew have braved the cold and rain and snow to compete. In recent years the results have been dominated by three Impalas, but it is a handicap series, and we are currently considering running it on a pursuit race basis.
TSC boats regularly compete successfully in Bristol Channel cruiser races such as the Portishead Cruising Club's Holms Race, and Ilfracombe Yacht Club's Lundy Race. In recent years they have entered for National Championships and the Round the Isle of Wight race.
Longer distance cruising
Many owners cruise in company down channel - a popular day trip is to Cardiff Bay on the ebb for lunch at Mermaid Quay, then back on the flood to the club. In the summer we have a Thornbury U3A sailing section which gives local pensioners an introduction to the Severn.
Boat storage

We are also fortunate at the club in having a large boat park to store cruisers out of the water and for maintenance, together with our own Wise lifter and a tractor for launching and recovery.
Social

Each spring there is a cruiser owners' dinner at the Anchor, the local pub in Oldbury,
Last updated 10:56 on 8 July 2021